Recover Files after Nikon D700 error "The SD card is not formatted. Do you want to format it now"?
Nikon D700 is, reportedly, the first compact Digital SLR designed for professional use.
The camera does have few outstanding features like Noise Control, White Balance, 12.1 MP lens, etc. There's no doubt that the Nikon D700 is good, but as every coin has two sides, Nikon D700, too, has its pros and cons. For instance, camera freeze, lens malfunction, SD Card error, f/0 error, and so on. These are common errors and can be resolved manually using small skill and assist. Among these errors, the SD card formatting error is the most common error and can be solved using the below-mentioned solution.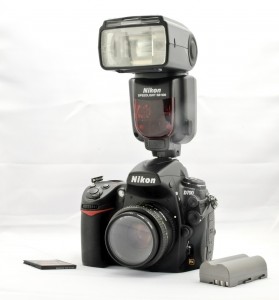 "SD card is not formatted" error can be due to many reasons like corrupted Files, Bad sector, system damage and more. Recovering data from Nikon D700 is a catch 22 situation. One another reason that maybe the rhyme or reason behind this error can be due to RAW file system errors. Most of the Nikon photos would be stored as Camera RAW files. They're uncompressed or unprocessed images. Hence, when your computer can't access these RAW files as they may appear as unsupported files on the system, the system will not be able to access them and will give you an error. Any files that are not recognizable as FAT32 are unsupported and the system will ask you to format the SD card. But you don't need to format your SD card every time. So, how to 'Fix SD card not formatted error'? How will you recover photos from your SD card?
There are no 100% accurate manual solutions yet for this error, but we recommend Stellar Photo Recovery as it helps you to recover lost or deleted photos, music, video, and other media files easily. Follow these common procedures that will help you to recover photos or media files using any Recovery Tools Software:
Step 1: Connect the SD card
Connect the SD card with the system. You should be able to see your SD card as a new drive on the system.
Step 2: Install the Recovery Tool
Once you've connected the SD Card, download and install the Photo Recovery Software that you want.
Step 3: Scan Card
Scan your drive through the software. Select the type of files you want (like photo, music, videos)  and click the drive and to recover.
Step 4: Preview the files (Can be avoided)
Mostly, any professional tool like Stellar will let you preview your files so that you can be sure whether you're looking at the correct file or not. Simply click on any file to see its preview. You may be able to preview videos or music files before selection.
Step 5: Select the multiple files
You can now select the specific files or all according to your requirement and start the Recovery tool.
Step 6: Select location
Many of them will even let you select the storage location for the recovered files. Save them and run the scan.
Step 7: Formatting the card
After recovering your data from SD card, you can then format it. Remember to the first format it as you might not be able to use it properly in the camera.
Stellar Photo Recovery tool is a proficient and dependable media file recovery software that helps to recover files from memory card, drive or any external storage. It supports scanning of storage devices over 2TB. Many other software does not support devices more than 1TB.
It also supports RAW image recovery from your Nikon. Mini SD, SDHC, Mini Disk, Memory stick, Micro SD, and other types of card is supported by this tool. And what else? It creates a 'Dedicated Tree List' apart from the Classic Tree List that will recover the previously deleted files from your drive or system. Thumbnails are important, especially when recovering from sternly corrupted photos, and Stellar will help you to recover those thumbnails. Image files such as TGA, PGM, PBM, are supported in this recovery tool apart from the normal image files like JPEG, GIF, BMP or PCT.
The way forward
Make sure that you always keep a copy of your important media files to another location. If any at any point you get the Format Card error, don't overwrite on the SD card. Just unplug it from Nikon and scan it with a Recovery Tool like Stellar Photo Recovery software to save your photos from being lost.