7 Fixes for Corrupt USB Flash Drive and Multimedia file recovery!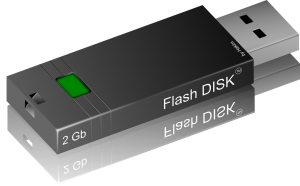 There are numerous instances when your USB flash drive gets corrupt or throw you an error message leaving you to deal with it. You often get to see "USB Device Not Recognized" or "You need to format the disk before using it" flashing on your screen after you inserted your USB flash drive. You think that you are on the verge of losing your important multimedia files as well as your USB drive.
Many of us make a choice of opting for multimedia recovery software but there is no harm is trying these alternative fixes which really work in most of the cases.
Let us go through these routine fixes first which are very easy to go for!
First Fix:
Try to plug in your USB flash drive to a different port. Yes, this solution may seem simple but sometimes, it works! For example, may be your USB drive is not accessible from the front USB port but it may work from the back side of your computer.
Second Fix:
You can start the "Disk management". Go to Start>>Create and format hard disk partitions' Or Hit Windows key and R together and enter diskmgmt.msc into the box and press enter. Now you get to see a list of drives. You have to identify your USB drive here. Now if the USB drive is listed here but not in Windows Explorer then you have to take these steps. You have to check the partition status at first and verify if it is showing 'healthy' with the drive letter. If it is not showing there, then that would be one reason why your USB drive is not recognized.
Third Fix:
The fourth fix is to change or assign a new drive letter to your USB Flash drive. Either you can right-click on the partition and choose "Change Drive Letter and Paths, then add a drive letter. Or you can follow the below steps to assign a new letter to your USB drive
Right-click on 'My Computer 'from the start menu
Click on "Manage" from the top icons, to open Computer Management window
Click on the "Disk Management" option
Here, from a list of attached drives select your USB flash drive
Right-click on the drive of which you want to change the drive letter. Then click on "Change Drive Letter and Paths". Here you can select "Change" and select a new drive letter.
Click on Yes to confirm.
Fourth Fix:
If you can take a chance with your files like (photos, audios, videos) and are not up to recover them, then the easiest fix is to format the drive. However, if you need to recover them before formatting your drive, then to recover your multimedia files from corrupt USB flash drive, download Stellar Photo Recovery Software.
Right-click on the drive in Disk Management and then select the format option. Let us go through the steps now: –
Open the Start menu and type "diskpart" in the run box
A Windows UAC will pop up, asking you for admin access to the DISKPART tool
At the prompt-like window which will display only "DISKPART", type "list disk".
Once you identify your USB drive disk number from the list of names, enter the following command "select disk #" where # is the disk number of your USB drive.
Here, you can enter the command "clean"
The clean command is used to zero out the sectors of the disk that contain the partition data.
Once you have cleaned the disk then type command "create partition primary". This command will create new partition on the disk and set it to primary, which means now the entire USB drive is ready to be formatted.
Steps to format USB flash drive:
Plug your USB device into your system.
Open "My Computer" option.
Right-click on the option Removable Disk.
Select "Format…"
Click on the "Start" button.
Click on the "OK" button to verify.
Fifth Fix:
The fifth fix is to fix the issue with your existing system's hardware. Here are the steps to do it:
Press the Windows key and R together and enter devmgmt.mscinto the box and press enter.
Type dev man in the Start menu search box
If you see any devices with a yellow triangle and black exclamation mark over its icon, then Right-click on the device and choose Properties and read the error message in the Device status box. If you see any particular error, then you can get information on the internet, otherwise try to fix any common issues.
Sometimes, it may be a driver issue/ driver problem of your computer's USB controllers. Sometimes, simply clicking on recent System Restore point will fix the problem. Also downloading the latest driver from the manufacturer's website may resolve the issue. It is however, not easy to download the correct driver. But if you know your system (make and model), you may end up in locating the correct driver.
Sixth Fix:
You can do error checking on your USB flash drive
Open up Windows Explorer or press "Windows" key + E of your keyboard
Right-click on the USB disk and click on "Properties".
3. From here click on the Tools tab. From here you can click on "Check Now "button to check for any errors. It is always recommended to click on "Automatically fix file system errors." Checking this option will automatically fix any existing file system errors.
Seventh Fix:
The above-mentioned fixes are well researched and tried. Trying any one or more is capable of resolving your USB drive error. However, if the USB flash drive still isn't recognized or any other corruption issue has come up, which is hindering you to access your multimedia files, then you can use recovery software (mentioned at the top of the post) to recover your multimedia files.
Conclusion:
Whenever your USB flash drive face any issue of corruption or inaccessibility, go through the above mentioned fixes and accordingly make your choice. Losing data is very disappointing and specially if it contains memories of yesteryear's in form of photos or videos. Although we have tried to mention as many possible fixes here, but still if there are more then please feel free to write about it and we will mention it in our post!